Medium / Low Torque Electric Screwdriver
1.Brushless motor, the perfect combination of screw counter and electric screwdriver, and most fit for operating in the clean room environment.
2.Torque range from 0.2~10kgf.cm is medium & small-sized screwdrivers. Widespread and extensively applied by users.
3.SKD-BE series is one compact of LED counter and electric screwdriver. Two- color housing, easy to operate, suitably used on production line and effectively control numbers of fastening screws and operation quality.
4.Easy to set up, complete function, user can set up this counter according to needs of work and leave system automatically to inspect the precision of fastened screws.
5.This system can set up Effective Count Number (SC), Automatic Zero (At), Slow Start Time (RC), Slow Start Speed (LO), Start Detect Time (LT), Stop Time (HT), Double Confirm Time after Fastening (LL), Waiting Time between two screws. Professional designs for the needs of users.
6.Automatic Learning can complete necessary time from start to fasten, let user confirm whether it is an ideal fastening value.
7.Signal output by OK ALL/OK ONE/N.G in the screwdrivers, open collector. The user can select another wire to connect PLC if necessary.
8.If Start time doesn't stop as over Ht time, that means stripped or wrong screw; If start time stops before Lt Time, that means screws stuck or wrong. This function can effectively determine whether screw fastening is right or wrong.
9.After setting up screws fastening, Shut-off can be confirmed just one time during pre-set time.
10.CE and ETL are optional.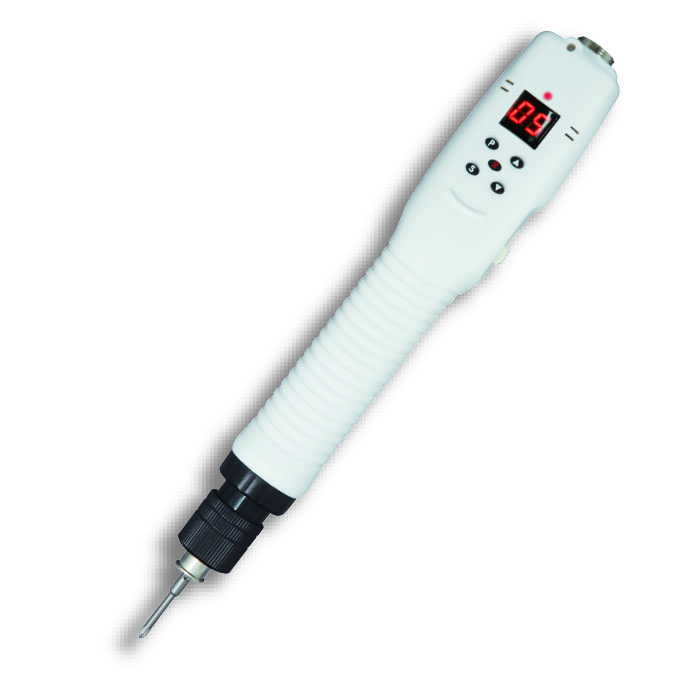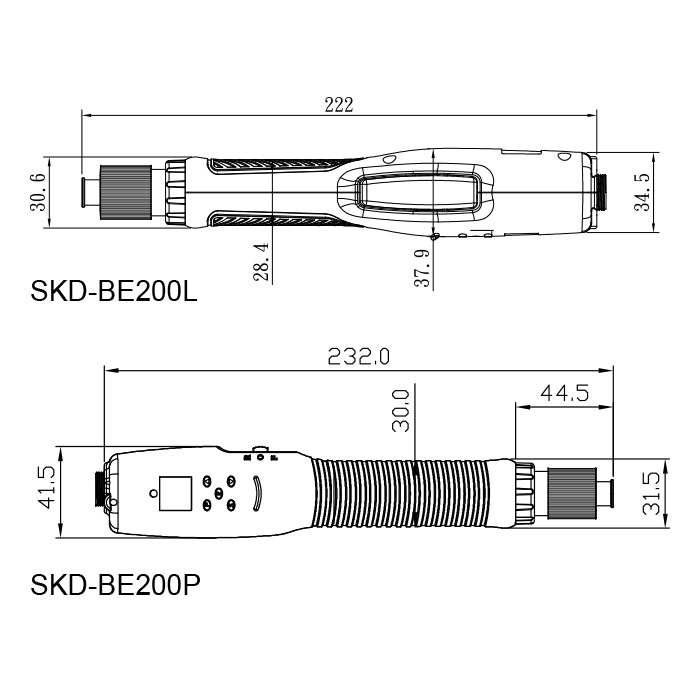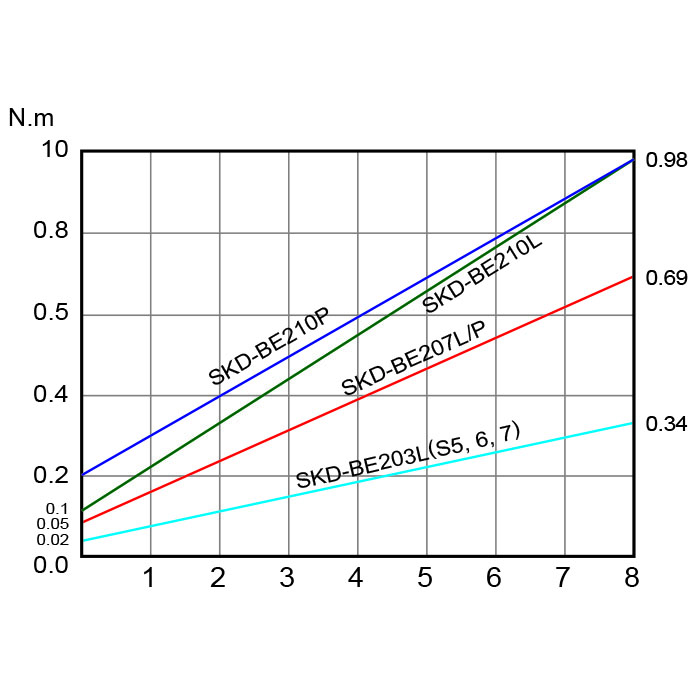 Model
SKD-BE203L
SKD-BE203LS5
SKD-BE203LS6
SKD-BE203LS7
SKD-BE207L
SKD-BE210L/P
Input Voltage
DC24V or DC32V
Power Consumption
25W
Torque
(Kgf.cm)
0.2~3.5
0.2~3.5
0.2~3.5
0.2~3.5
0.5~7
L:1~10/P:2~10
(Lbf.in)
0.18~3.01
0.18~3.01
0.18~3.01
0.18~3.01
0.44~6.10
L:0.89~8.67/P:1.77~8.67
(N.m)
0.02~0.34
0.02~0.34
0.02~0.34
0.02~0.34
0.05~0.69
L:0.10~0.98/P:0.2~0.98
Repeatable Torque Accuracy(%)
±3%
Torque Adjustment
Stepless
Free Speed (r.p.m)
Hi
1000
500
370
230
1000
1000
Lo
700
350
260
160
700
700
Screw Size Dia (mm)
Machine Screw
1.0~2.3
1.0~2.3
1.0~2.3
1.0~2.3
1.4~2.6
1.6~3.0
Tapping Screw
1.0~2.0
1.0~2.0
1.0~2.0
1.0~2.0
1.4~2.3
1.6~2.6
Weight(g)
330
Length(mm)
LC:226 / LB:240
ESD(Anti-Static)
                               V(with black housing)
CE
V
RoHS
V
Bit Type